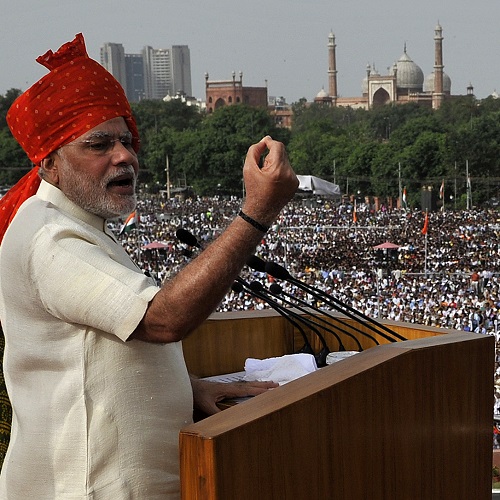 This morning, I woke up to listen to a brilliant Independence Day speech by Prime Minister Narendra Modi. Unlike many of his predecessors, India's 15th Prime Minister spoke extempore, touching on many issues that ail the country. From the need to build toilets for girls to lethargic government officials; he stressed on creating a manufacturing hub in India which was particularly forward looking.
As a big supporter of digital governance, I was excited when he spoke about e-governance as easy governance. He had a little bit for everyone, including Left liberals. He spoke about getting rid of caste and communal violence. People across the spectrum, except for the obvious naysayers, hailed his speech as one of the best in recent times. Even the sceptics couldn't help but admire the vision that India's new prime minister presented for the country.
And then within hours, the Twitter handle and Facebook page of the RSS uploaded a graphic of Akhand Bharat with this quote from MS Golwalkar, the second Sarsanghchalak of the Rashtriya Swayamsevak Sangh: If Partition is a settled fact, we are here to unsettle it. There is, in fact, no such thing as a settled fact in this world. Things get settled or unsettled solely by the will of man. And man's will is steeled by a spirit of dedication to a cause, which he knows to be righteous and glorious.
I didn't know how to react. I shared the point with a colleague and she responded by saying, "and this morning, Modi lectured the country on the need to stop communal violence. Irony just died a million times."
So how do we read such an assertion by the RSS on the day when the first pracharaak to become Prime Minister delivered his vision for the country? In many ways, one presumes Modi's first Independence Day speech contains policies which are expected over the next five years. The ideals of the speech seem to be based on his election slogan 'Sarvajan Hitay Sarvajan Sukhay' (for the gain of all, for the welfare of the all), something even US Secretary of State John Kerry mentioned in his speech before meeting him – of course for obvious reasons.
But "unsettling the settled business of partition"? What does that mean? Is it a message to India's south Asian neighbours, with whom Modi has been trying to mend ties? Or it is a message to India's own minorities?
Akhand Bharat, of course, has been one of the core principles of India's biggest NGO, but bringing it up on the occasion of the Independence Day seems a bit odd. Forget about Pakistan or Bangladesh, how will the birth land of Gautam Buddha and the former Hindu Kingdom – Nepal react to such an expansionist idea? What about Myanmar or Bhutan or Sri Lanka? Of course one can interpret this as an assertion of a larger cultural ethos, but the partition was political, never cultural. So is it about undoing a political move based on religion?
It is always fascinating to look at the way the Sangh views religious minorities in India. This prism ranges from complete "otherisation" to common ancestry to even playing into the hands of the Islamic right wing by equalising religious communities as a race and thus an enemy.
Of course the partition cannot be read without including the role of religion in our politics, but what particularly intrigues me is the assertion of difference that a Hindu right-winger makes for his or her cause from that of his counterpart in Islam.
This morning, a senior journalist who is publicly known to be close to Narendra Modi tweeted: A 'secular' friend asked me why there wasn't anything 'bout religious hatred in Modi's speech. I said yes there was no condemnation of ISIS.
Once again, I was amazed by this comment because clearly, the Hindu right-wing does believe its assertion of religion in politics is different from the Islamic right-wing method. But the underlying similarities between the two are too glaring to ignore; similarities that are conveyed and emphasised by the post and the tweet mentioned above.
Why else mention ISIS, an Islamic group functioning in Iraq, when the liberal media is abuzz with reports of communal violence in Uttar Pradesh?
While I refuse to play into the gimmickry of the Indian National Congress and claim that there have been 600 riots since the Modi government came to power, one cannot help accept the fact that the BJP has been doing extremely well in most of the seats where the riots took place. From my own experience of covering the last Uttar Pradesh state elections, I have come across instances like the Kanpur Sadar seat where a BJP Hindu candidate won the election inspite of it being a Muslim majority constituency and with the presence of strong Muslim candidates from other parties. Why? Electoral arithmetic!
The BJP doesn't like it when the liberal media (yes, we are unfortunately and growingly using this term) points out how the party got one of the lowest vote share in the history of ruling parties. How does this happen when the party won a record number of seats in Lok Sabha. The answer, of course, lies in the brilliant brain of BJP president Amit Shah.
Coming back to the RSS' social media post on partition and Modi's speech, hardcore Hindu right-wing supporters would see no contradiction between the two, but at the core of it there is a fundamental difference. The inclusive politics as being envisioned by Modi doesn't look at citizens as segments or groups who can be played against each other. Neither does it look at opponents as 'enemies' or 'traitors'. When the BJP president talks about a Congress-free India, is he looking at a framework of a single party system? Modi today spoke about the contributions made by all previous governments and prime ministers towards the growth of India. The Congress has ruled us for a long time, so Modi does accept that Congress has had a major role in India's development as a modern nation, and so have many BJP and other non-Congress governments at the Centre and in the states.
I have always been sceptical of left-liberal agenda about Modi and sometimes felt it is too motivated. So the day BJP launched its manifesto, I was impressed. The document spoke about many important things for the nation while the pet issues of the Ram mandir and cow protection were left to the last page. The party seemed to have truly moved ahead. When I called one of the ideologues in the party and asked him if it is going to be all about development from now on, he praised Modi to the hilt and replied, "absolutely!". But then he added, "But at the end of the day that man did teach them a lesson."
Perhaps we should read the RSS partition post in that context. Development or no development, the main agenda is still very much there and for real. Has RSS and BJP successful masqueraded Hindutva as an inclusive governance model to fool an entire generation of first-time voters? We will know in next five years, as Modi juggles between the twin agendas.






by